Download in PDF
In December 2019, Kenya decided to authorise the commercialisation of transgenic cotton within the country. "This should help farmers increase revenue thanks to increased levels of production", explained Head of State Uhuru Kenyatta. The decision has largely gone unnoticed. However, it represents a turning point. The country, which passed a bio-security law in 2009, had banned all imports of transgenic products, including food products and seeds for food production. GM (genetically modified) plantations were banned. Only strictly-controlled research projects were able to take place. On one side, the African Agricultural Technological Foundation (AATF), a pro-GMO organisation based in Nairobi, was lobbying the government to repeal the ban. On the other, Greenpeace was calling for the ban to be maintained to prevent "big business from taking over the food production system".
In the end, Kenya decided to adopt a three-phase approach to setting up GM farms, known as 3 F: Fiber-Feed-Food. The first phase involves adopting Bt cotton[1], followed by fodder crops. Only then will the production of GM food products for human consumption be considered. In this way, the authorities plan to give themselves time to assess the risks involved in this decision. Bt cotton field tests carried out in the country over the past few years have shown that the transgenic crop produces yields 30% greater than conventional cotton. There is, therefore, an agronomic argument to be made. The other argument is industrial, with the country's ambition to impose itself as the regional leader in textile production. As East Africa's biggest economy, Kenya's position may influence its neighbours, which share the same agricultural and industrial challenges.
Since the 1980s, new technologies used by plant breeders have emerged, inspired by genetic engineering and genomics, leading to the development of GM plants. Since then, biotech research has expanded considerably. With African populations still suffering from food insecurity, the use of these resources, in particular transgenic seeds, is presented by supporters as a means of overcoming most of the constraints which are hindering the development of agriculture. However, African decision-makers, scientists and farmers remain divided over the advantages and potential risks of transgenic crops.[2]
How is the argument framed, and what are the options for using biotech seeds to overcome agricultural and food production issues in Africa? This question underpins the continent's food and nutritional security. It is all the more pressing in the context of emerging from the COVID-19 pandemic crisis, which will have disturbed agricultural and food production systems while opening the way to new options.
[1]"Bt" refers to a toxin produced by strains of the bacterium Bacillus thuringiensis. It is a GM variety created by the American firm Monsanto (absorbed by Beyer in 2018).
[2] The African Seed Access Index (TASAI) monitors essential indicators (number of varieties, accessibility, quality, price, yield, extension services) crucial to the development of the seed sector for fourteen African countries.
GMOs – precedents in South Africa and Sudan
In 2018, there were almost 192 million hectares of GM crops, or 12% of crops worldwide, in 26 countries (ISAAA, 2018). Four GM crops dominate – soybeans for livestock fodder, maize, rape, and cotton – achieving almost complete market saturation in the United States, with 93.3% of the market (average for soybeans and maize), Brazil (93%), Argentina (almost 100%), Canada (92.5 %) and India (95 %). Biotech crops have expanded with alfalfa, sugar beets, papaya, squash, aubergine, potatoes and apples, which are all already on the market. Indonesia has planted the first drought-resistant sugar cane. Research into biotech crops by public sector institutions includes rice, bananas, cassava, yam, cocoa beans, coffee bushes, potatoes, sweet potatoes, wheat, chickpeas, pigeon peas (Cajanus cajan) and mustard. This research focuses on various aspects of nutritional quality and economic advantages for producers and consumers of food products in developing countries.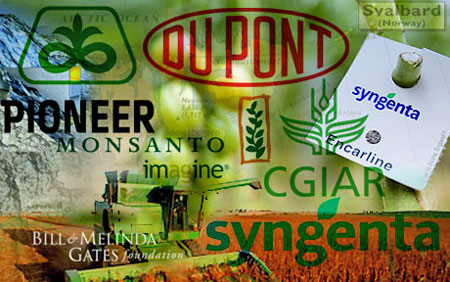 In Europe, maize MON810, which produces an insecticide to protect the plant from corn borers, is the only GM crop approved for use in Europe. France has put in place a moratorium on planting GM crops. However, 70 GMOs are authorised for consumption in Europe, most of them for livestock. In this way, Europe imports transgenic soybeans to feed cattle, thus consuming them indirectly.
Transgenic cottons are now produced by most of the major cotton-growing countries: China, the United States, Australia and India, on very large farms. Brazil authorised GM cotton in 2006. Two African countries have been part of this group for several years: South Africa and Sudan.
South Africa was one of the first ten countries in the world to plant 2.7 million hectares of biotech crops. From 1997, over two million hectares of transgenic, lepidopteran-resistant cotton and maize were planted for commercial purposes. The country then approved GM soybeans. Adoption has been progressive. Today, 80% of maize, 85% of soybeans, and almost 100% of cotton in South Africa is genetically modified, for a total of around three million hectares.
For its part, Sudan has grown 245,000 hectares of Bt cotton with a 98% adoption rate among farmers. 90,000 of these farmers operate small farms, averaging 2.1 hectares. Some of the genes were introgressed with local varieties, to stimulate the expansion of this biotechnology with varying degrees of success. For small-scale farmers, farming by hand, the additional cost of transgenic licences is rarely covered by increases in yield, which remain low. However, for farms 50 hectares or more in size, there is a clear economic advantage which, nevertheless, varies depending on the level of infestation in fields and weather conditions.