The 2020 edition of Le Déméter, a yearly survey of agriculture, food products and development in France, Europe and throughout the world, has just been published. This 400-page publication brings together articles by authors from a wide variety of backgrounds analysing topics relating to agriculture and food products from political, economic, geostrategic, and even historical and philosophical perspectives.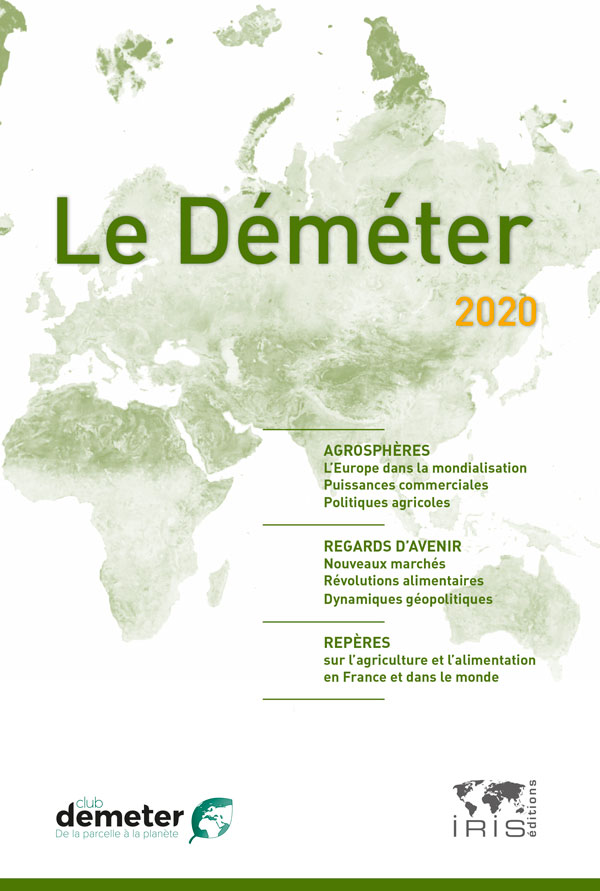 Le Déméter, which has been published every year since 1993, is fairly unique in what it does. It aims to "shed light on discussions relating to agriculture, food products and rural issues through innovative frames of reference which draw on politics, economics, environmental studies and science". This description is offered by the publication's two editors, Sébastien Abis and Matthieu Brun, respectively director and director of studies for the Club Déméter academic partnerships (read below).
Through their work, Demeter, the Greek goddess of agriculture and harvests, has become Le Déméter. Over the years, this publication has become a point of reference and is eagerly awaited at the start of each year by many in the agricultural sector. The 2020 edition has just been published and, based on the success of the previous edition (now out of stock), 2,000 copies have been printed. That is quite an achievement for such a specialist publication, 400 pages in length, at a time when ebooks are on the rise. (Le Déméter is also available as an ebook from the Cairn.info platform).
Every year, Le Déméter includes around twenty original articles, most of them in French (some in English), but also information sheets and boxes. All these contributions, written by a total of forty authors from a variety of backgrounds, can be divided into two main groups.
Sounding out the 'Agrospheres'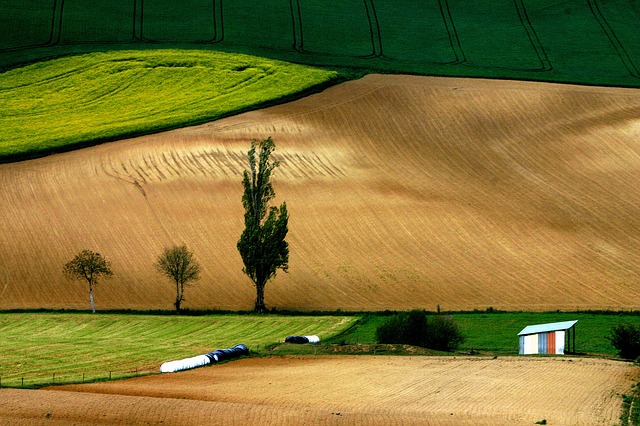 The first main group, known as 'Agrospheres' explores a central theme from different perspectives. "This year, we have decided to focus the texts on the place of Europe in globalisation", explains Matthieu Brun. "Preparing the new common agricultural policy (CAP), Brexit and the crisis of multilateralism all make this a topical theme". Approaches to this theme are not only economic, political and strategic but also historical. It is useful, for example, to remember that the CAP, one of the cornerstones of Europe, has seen its ambitions change since it was created in 1958: starting as a policy designed to deliver food sovereignty for Europe, it later became a policy to bring European agriculture in line with World Trade Organisation rules. Now that it is being re-imagined in a precarious environmental and political context, hasn't the time come to renew its original spirit, which was the same as that of the 'Havana Charter' (1), to offer 'food security for all people'?
Identifying upcoming trends
The second part of Le Déméter brings together texts under the title Regards d'avenir (Looking to the Future). This part brings together a wider variety of contributions around issues which are predicted to arise in the future, or are currently emerging or simply of interest. Thus, the section contains a scientific article on the microbiota revolution, a major breakthrough for human health. Humans are, in fact, a superorganism composed of human cells and 100,000 billion micro-organisms.
This scientific revolution has important implications for the food industry because it changes assumptions about what nutrition involves: we must not simply feed the human, but their microbiota too. It also has significance for agriculture because plants have their own microbiota, which can influence their ways of feeding themselves or protecting themselves from threats.
Another noteworthy article discusses cannabis, a growing agricultural business. It issues a useful reminder that, legal or not, cannabis is a very widespread crop. It is difficult to put an exact figure on the surface area of cannabis plantations worldwide or the quantity produced, but a rough estimate of its market is possible: 150 billion dollars, more or less the same as wine. The market is currently 90% illegal, but more and more states are legalising certain uses of the drug (including recreational uses). 'Cannabusiness' is attracting investors and entrepreneurs.
Cuba's surprising agriculture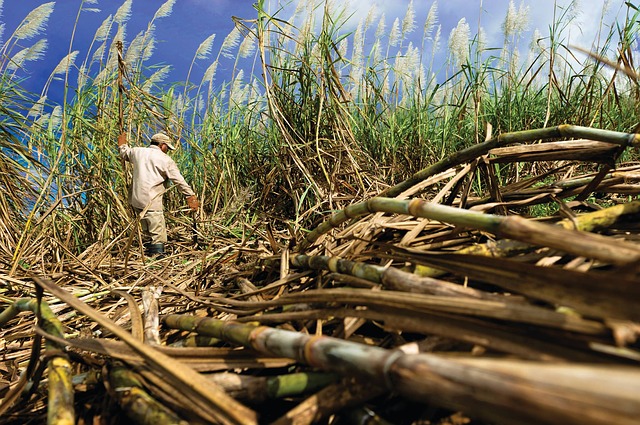 "In this section of Regards d'avenir, we also always devote a chapter to a particular country whose agricultural practices seem original to us or important from a strategic perspective", continues Matthieu Brun. In the 2020 edition of Le Déméter, Cuban agriculture is in the spotlight. It is an agriculture marked by a sugar-producing (and slave-owning) past, a hard and long-term economic embargo, and insufficient yields (this is still the case today).
However, this agricultural sector, which has developed under many constraints (a shortage of fertilizer in particular), has invested highly in science. It has therefore found itself at the cutting edge of agro-ecology. Another particular feature is that Havana would seem to have the most highly developed urban agriculture infrastructure of any capital city in the world. Thanks to solutions found by a population regularly confronted with shortages, it now meets over 50% of its own needs in fruit and vegetables. "The example of Cuba is interesting in terms of understanding the impact of international relations on agriculture", adds Matthieu Brun.
Finally, as Le Déméter's ambition is to be open to unusual and surprising perspectives, the final chapter of Regards d'avenir has been written by a Jesuit professor of philosophy in Shanghai, examining ideas around religions, beliefs and food security. The text mentions major world religions and issues a reminder that food is probably the everyday area in which their influence is most visible. The analysis also touches on beliefs, particularly those of anti-speciesist vegans, for whom the life of an animal has as great a value as that of a human being.
A pedagogical ambition
The final pages of Le Déméter contain ten information sheets, with statistical charts, maps and summaries of analyses about challenges and key products in food production (population, environment, cereals, oils, sugars, etc.). It's a chance for readers to get their feet back on the ground after delving into philosophy and spirituality!
With 400 original pages to publish every year, Sébastien Abis and Matthieu Brun, the two architects of Le Déméter, have their hands full. "We work on three editions at the same time. We are currently promoting the 2020 edition, which has just been published. But we are already collecting texts for the 2021 edition and thinking of themes for 2022."
Themes for future editions are decided collectively by the eighteen French members of the editorial committee, in partnership with thirteen international correspondents. "We get together to talk through proposed themes as a group. We always make a long list, and then we take a vote. Next, we look for contributors, either among members of the editorial committee or from outside. Sometimes it's a little challenge for them!"
The challenge may involve writing about cross-disciplinary or cutting-edge topics, but also it sometimes means making specialist knowledge accessible to a wider audience. "We spend a lot of time with our writers. Sometimes, we even give them a bit of a prod: we want to widen access to the issues at stake, to be able to speak to everyone, both within agricultural circles and outside of them. We have strong pedagogical ambitions."
Catherine Perrot
(1) The Havana Charter: Negotiated after the end of the Second World War but not signed by the United States, this charter set out plans for an international trade organisation within the UN, based on co-operation between states. It aimed, in particular, to stabilise agricultural product markets. In other words, it would aim to achieve the opposite of what can currently be observed.
Box 1
The Club Déméter
The Club Déméter is a network of organisations which includes sixty-five companies and trade bodies from both ends of the agricultural and food business production and distribution chain. These companies are French, but three-quarters of them have overseas activities. The Club Déméter also works in partnership with eighteen higher education institutions with agricultural programmes (including UM6P), experts from around the world, and several French ministries.
In addition to publishing Le Déméter, the Club maintains the network, organises talks and debates, carries out studies and strategic monitoring, and facilitates meetings between its members and students in partner schools.
Box 2:
Déméter 2020
Le Déméter 2020, 400 p., €25, published by Iris éditions. Available to order from www.iris-france.org but also to read and download by chapter from cairn.info.