Food, water, climate, land management… Numerous issues to address for states aiming to transition towards more resilient and sovereign economic and environmental systems.
Jonathan Mockshell, a scientist and agricultural systems and innovation economist at CGIAR, and Danielle Resnick, a political scientist and researcher on the political economy of development, have co-authored a new manual on political economy and policy analysis (PEPA).
The objective of this publication is to enlighten governments by providing them with better visibility into the mechanisms and impacts of public policies in place, including their dynamics: power, conflict of interest, networks…
Various public strategies have been reviewed, resulting in analysis models and recommendations to assist governments in preparing their agricultural, food, or environmental reforms. These reforms respond to societal changes or act in response to events such as conflicts or natural disasters.
The manual catalogues different ongoing reforms (agricultural subsidies, food security, nutrition) and describes their political, economic, and social environment.
The analysis, conducted using a PRISMA approach, identified about twenty frameworks and ten analytical tools. Additionally, the authors conducted five case studies of using these tools in policies related to:
Food and nutrition;
Land and water;
Climate and ecology.
The approach is organized in stages. The first phase involves determining which system authorities want to impact:
The food system and nutrition, health, food security, as well as agricultural production and sustainability;
The water and land management system through regulations on access, use, and preservation;
The climate system, including agricultural activities with which it interacts.
Next, the level of impact needs to be defined. Is it about making a macro (national), meso (rules), or micro (individuals) transition? Depending on the level of action, the context to consider is either general and cultural or categorized by individuals (losers/winners).
After these two phases, decision-makers can evaluate their policies using the frameworks proposed in the manual and draw on the experiments analyzed in the manual. For example, they can draw inspiration from programs subsidizing agricultural inputs and refine the strategy based on specific opportunities.
The authors of the manual noted that decision-makers tended to focus their agricultural strategies on technological innovation without involving the socio-economic context. If a program relies on technological progress, it must also validate the technology's ability to invest in a sector on all fronts: cultural acceptance, usability skills, financial capacity…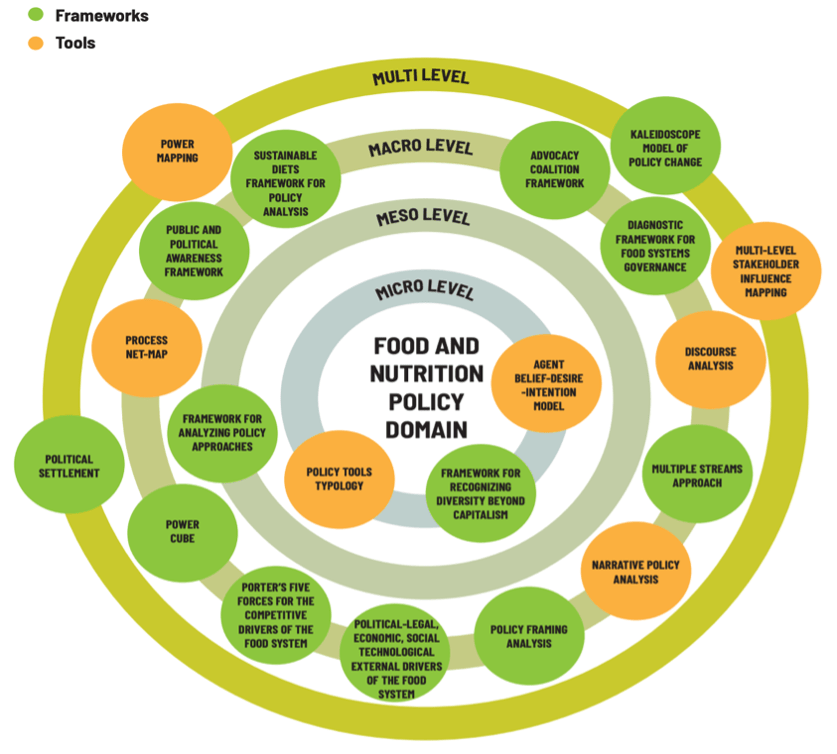 Source : Authors Jonathan Mockshell et Danielle Resnick
PEPA Tested in Food Policies
The PEPA frameworks and tools are proposed at macro, meso, and micro levels.
At the macro level, data is analyzed at the national level, determining the potential impact of historical context, political climate, institutional culture, and socio-economic situation. Tools complement the analytical toolkit in this macro context; the following resources are examples of tools used to support the analytical process:
Narrative Policy Analysis (NPA) (Roe, 1994; Mockshell & Birner, 2020);
Discourse Analysis (DA) (Hajer, 2006; van Dijk, 1996; Mockshell & Birner, 2015);
Process Net-Map (PNM) (Schiffer, 2007, Ilukor et al., 2015; Duncan et al., 2019).
At the meso level, data is intermediate and mainly derived from processes, rules, and incentive mechanisms that make up policies. These data are influenced by the economy, culture, and norms.
At the micro level, data will shed light on the categories of individuals who will be winners and losers in the envisaged reforms. This analysis is done at the regional level. If the percentage of losers is high in an area, implementing the program can jeopardize local dynamics.
The Case of Food Security in Zambia
Resnick et al. (2018) analyzed various food security policies implemented in Zambia. The goal is to decipher the impact of the political environment on the effectiveness of food security programs in the country.
To follow the Kaleidoscope change model, there are five stages in launching a new policy:
Agenda;
Design;
Adoption;
Deployment;
Evaluation and reform.
Stages 2 to 4 are developed based on about fifteen contextual hypotheses.
Based on this approach, eight Zambian food and agricultural policy reforms were evaluated. It emerges that some actions planned in the Zambian policies are not applicable despite the investments they required.
These findings aim to alert decision-makers to the importance of measuring the realism and effectiveness of envisaged measures, especially in a context of uncertainties and pressures on budgetary resources.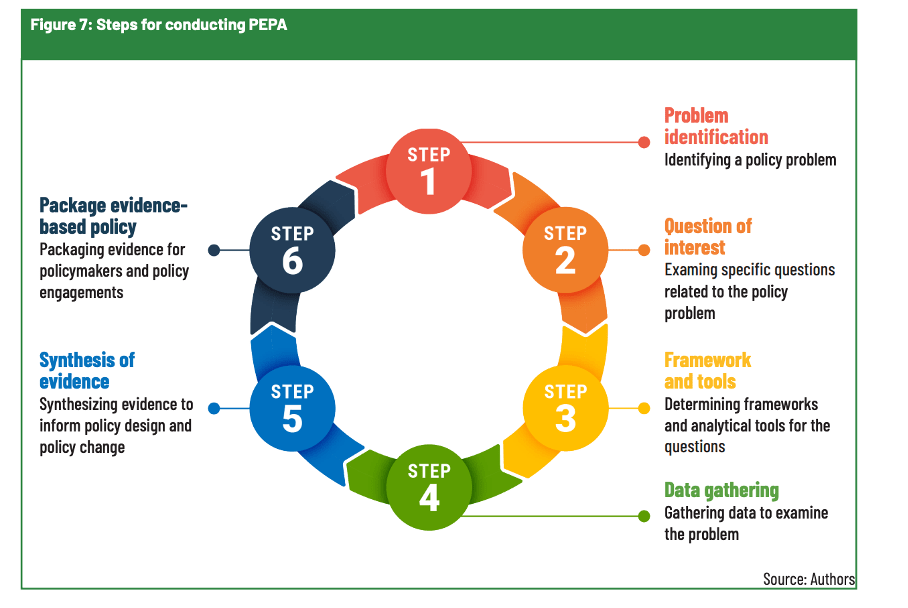 Source : Authors Jonathan Mockshell et Danielle Resnick
The PEPA Approach
The PEPA Sourcebook manual provides both analysis frameworks, a "toolbox," and a collection of observations and recommendations.
Decision-makers are guided through a chronological process:
Identifying the issue and its scope;
Evaluating the extent of quantitative and qualitative needs;
Choosing relevant analysis frameworks and tools;
Collecting data and identifying issues not addressed by the program;
Synthesizing evidence as the foundation for reform;
Defining and involving project actors, stakeholders, and policymakers.
The manual aims to analyze policies applicable to food, land, and water systems. It is not exhaustive but serves as a resource for development experts, funders, civil society organizations, researchers, and policymakers responsible for guiding these policies.
Alignment of institutional positions with those of society, whether civil or economic, is the key to the success of a policy. The degree of acceptance will be better, and the risk of conflicts reduced.
In the 1960s, the first economic policies emerged as the basis for agricultural development. Today, the call for transition covers the entire agri-food chain, from agricultural production to the agri-food industry, including the environmental aspect.
There are not many guides or frameworks for analyzing agri-food policies; resources are scattered, and indicators are not validated. Moreover, studies are conducted by areas of expertise without integrating the notions of power specific to the political and economic world.
The success of food production policies, resource management, and environmental preservation greatly contribute to achieving the objectives in the five areas defined by CGIAR, namely:
Health and food security;
Livelihoods and employment;
Environment and biodiversity;
Equity and social inclusion;
Combating climate change.
Gender analysis and inclusive considerations remain to be developed in the PEPA Sourcebook; the success of agricultural policy is significantly linked to the inclusion of young people and women. Today, these categories of the population do not have equitable access to water, land, funding, and more broadly to power.
In the agricultural sector, the cooperative form constitutes a frequent and effective compensation mechanism, but policymakers also have the responsibility to build a legal framework favorable to disadvantaged individuals, notably by granting them more land and financial power.
Source : globalpolicyjournal.com